Faust & Fredriksson
One day in 2009, when Alban Faust and Thomas Fredriksson was awarded the title of " Riksspelman " for their outstanding play, they decided to deepen their musical collaboration. Many gigs later, but also because of the geographical and cultural proximity, their common games grown together even more. The music is characterized by tenderness, warmth, originality but above all by a playfulness that is equally well suited for the dance floor as the concert.
Traditional music from Sweden and mainly from Dalsland interspersed with original songs and ballads have room in their musical programs.
The nyckelharpa and fiddle dominates the music,
but also bagpipes, guitar and vocals are present :
passionate, finely tuned , wistfully or game and anything with a drive ...
.... So it is no wonder that a double bass now has joined the ranks of those .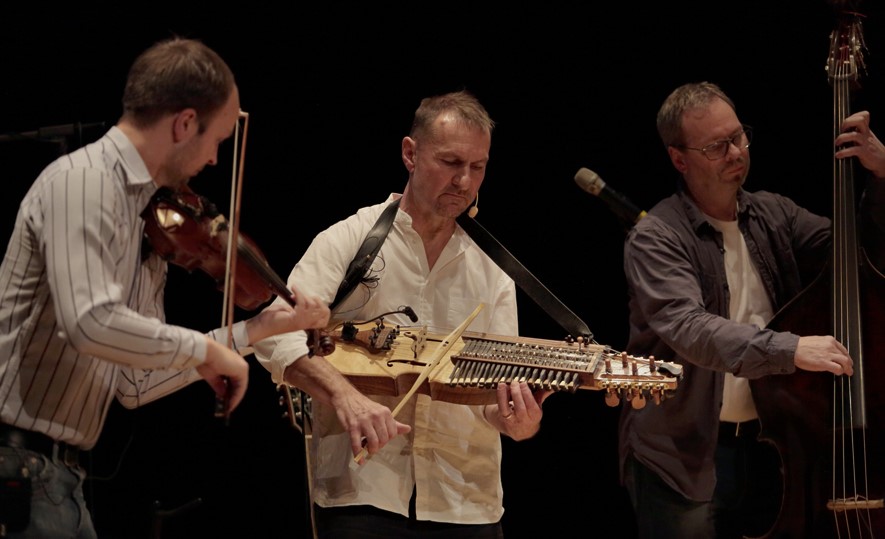 Faust, Fredriksson & Blom
Faust, Fredriksson & Blom
Faust Fredriksson & Blom
Spelman trio from the heart of Dalsland
Sören Blom, an experienced and highly demanded Dalsland bassist who usually wander on other musical paths are by Faust & Fredriksson come to a new territory ( "the land of his ancestors" ).
Surprised and delighted to get to know these beautiful, melancholic and catchy old and new songs,
he has now come home.  This not only musical , the fact that he also lives in the neighborhood has made the collaboration even easier.
Dalsland has much to offer and Faust Fredriksson & Blom plays with the landscape to the heart .
Alban Faust: Nyckelharpa (keyed fiddle), bagpipes, guitar, vocals
Tomas Fredriksson: violin
Sören Blom: double bas
Alban works as a professional musician and instrument maker with various musical projects (such as game leaders Dalslands Spelmansförbund ). He has long been engaged in the traditional music from Dalsland, has recorded a number of CDs, toured with various formations and as a solo artist. He has given courses and taught trades. music / keyed fiddle / bagpipe and reconstructed folk musical instruments and developed these. All instruments he plays except the guitar is built in his own instrument workshop.
Tomas belongs to the younger generation of musicians and is confident and expressive that few others. Perhaps it is in the blood because already his grandfather was riksspelman. In early childhood, he was in love with his instrument, and when he does not currently have a fiddle in his hand as he works as a wind turbine technician.
Sören is the "double bass instance" par excellence in Dalsland. He was born and grew up in the neighborhood and is active in various musical groups. He discovered, however, the traditional music of his own native place first in adulthood. But then it hit him all the more. His excel ears, he needs not only for his double bass, but also in his second profession as he is a sound engineer.